'Canadians where you least expect,' journalist tells veteran's stories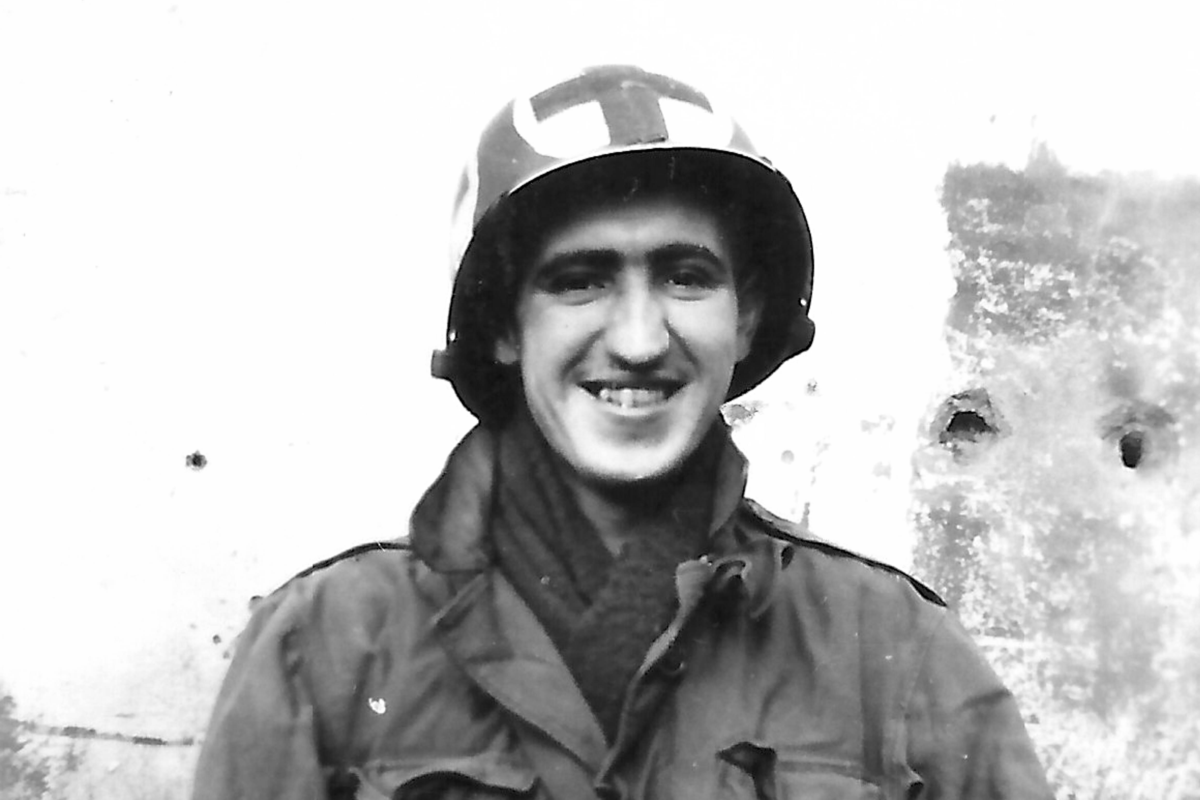 Journalist and author Ted Barris spoke to the Probus Club of Collingwood this month about his book Rush to Danger, which features stories of military medics, including his father's story
Ted Barris has spent a lifetime following his father's footsteps – into journalism, around the US, and onto the battlefields of the Second World War. While Barris' father was already his hero, it was after his father's death that Barris learned about the heroism that earned his father a Bronze Cross.
Barris was 14 years old when he first asked his father, Alex, about the Second World War. Alex had been a medic in the US Army, finishing his service with the rank of technical sergeant. 
In 1964, Barris was home recovering for weeks after a collision during a baseball game. Alex nursed his son with humorous stories of terrible food, trading bologna sandwiches for peanut butter, and tripping while boarding his boat home putting Alex in the line of wounded who got off the boat in the US first and went straight to the Salvation Army tents. 
Ted followed his father into journalism, and he also pursued history, authoring 20 non-fiction books with a 21st in the works. His father's newspaper column "Barris Beat," continues online today with Ted Barris blogging under the same title.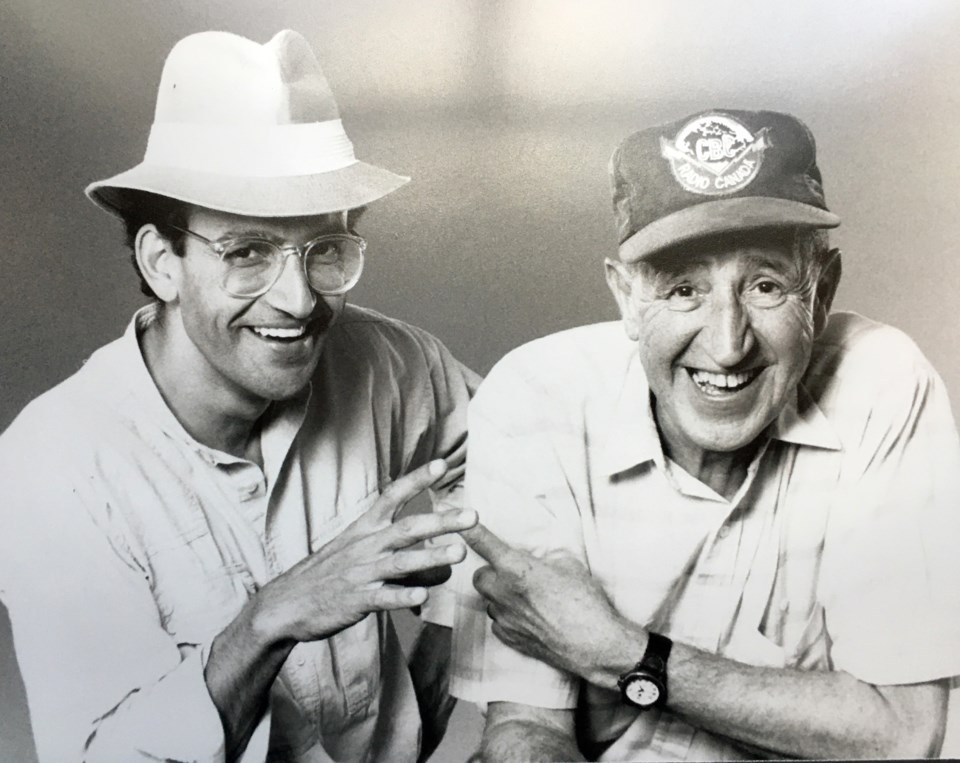 Ted Barris' 19th book, Rush to Danger, is the story of his "father's war," and of the other medics in the line of fire. Though Barris' father died in 2004, Barris continued to track down his father's story and the stories of many other medics and veterans of war. 
"I have interviewed, over 50 years of doing this, probably between 600 and 700 veterans, many of them nurses, stretcher bearers, ambulance drivers, surgeons, corpsmen, all associated with military medicine," said Barris. "I had no way of telling their stories until I realized that my dad's story … would give me the opportunity to go off in all directions all the way back to the Civil War in the United States when the first field ambulance was invented at Fredericksburg in 1863, right through to Afghanistan and Iraq where surgeons were aboard Blackhawk helicopters." 
Barris was telling his father's story, and the stories of many other military medical personnel during a talk to the Probus Club of Collingwood on Nov. 2. 
His talk, based on his book Rush to Danger, also includes the history behind relatively unknown, but important figures in military medicine, particularly Canadians.
One such Canadian was Newfoundlander and First World War medical officer, Cluny Macpherson, who witnessed the violent deaths at Ypres from gas attacks and vowed to find an antidote. He created the first gas mask – a hood with a visor made of triacetyl-cellulose (invented first as flame-proof movie film). By the end of the First World War, 20 million of Macpherson's gas masks were made and saved thousands of lives. 
Barris has hundreds more stories like it across his 20 published works, most of them about military history. 
"A lot of my books are, for lack of a better phrase, Canadians in places you least expect Canadians to be," said Barris in an interview with CollingwoodToday following his Probus presentation. 
His next book is about Canadians in the Battle of Britain. 
"No one's really explored the Canadians to any degree in that battle, as was the case with the medics, the interesting medics who have emerged as Canadians whose stories are otherwise kind of lost to history," said Barris. 
In many cases, the stories were well protected, even buried deep, by people like Barris' father, who don't openly talk about their experiences during war. 
Barris has spent his career learning to ask the right questions, be patient, and listen to veterans who haven't talked about the war since they left it.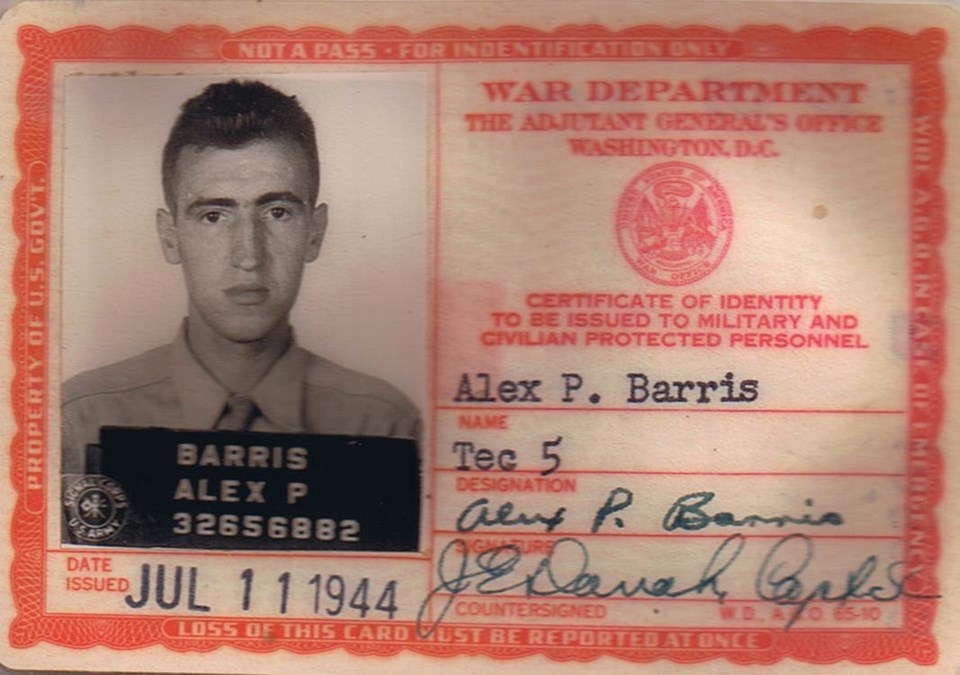 One of the interviews, Barris said, inspired the start of his books about Canadians in wars, was Charlie Fox who left his home and work in Ontario as a shoe salesman to train pilots during the Second World War. He was invited to Buckingham Palace for a ceremony to present him with two distinguished flying crosses. He turned them down and explained if they didn't need him to fly anymore, he was going home to his family. He returned to his job selling shoes. 
"He just tucked it all in the closet and decided to forget about it … Until I came along in the 1980s and asked, 'Who are you? What did you do?'" said Barris. "He inspired me to realize that these veterans are people, and they had stories to tell, some bad, some good, some in between, some funny, and some horribly sad and full of loss and remembrance." 
Barris has dedicated his life to telling those stories, including his father's, which took him across the US finding records and a former medic from his father's battalion, and finally to Borg, Germany. 
It was 1945 in Borg, Germany during the Battle of the Bulge when Alex Barris and the 319th Medical Battalion set up a casualty aid station near the Campholz Woods for the American advancement.
Records show there was one day, Feb. 10, 1945, those medics cared for 119 wounded in 12 hours – that's about one wounded soldier every six minutes. 
On Feb. 12, 1945, four stretcher bearers who had gone into the woods to find wounded soldiers to bring back to the medical encampment failed to return. Alex Barris, who would have been overseeing dispatch of the stretcher-bearers, went into the woods to find them. One at a time, he brought each of the four men back, two were injured, two had become disoriented and couldn't find the way back. He was given the Bronze Cross for this act of bravery.
Young Ted Barris visited Borg prior to the release of his book about his father, and there he met a man who had grown up on a farm by the Campholz Woods. It was the very farm where Barris' father and the rest of the 319th Medical Battalion set up a casualty aid station during the Battle of the Bulge, and the very place Alex Barris received his Bronze Cross for the rescue of four stretcher bearers from the front line. 
For more on Ted Barris, including his other book titles, visit tedbarris.com. 
The Probus Club of Collingwood is open for new members, there are 10 clubs in total meeting in Collingwood. For more information, visit probuscollingwood.ca.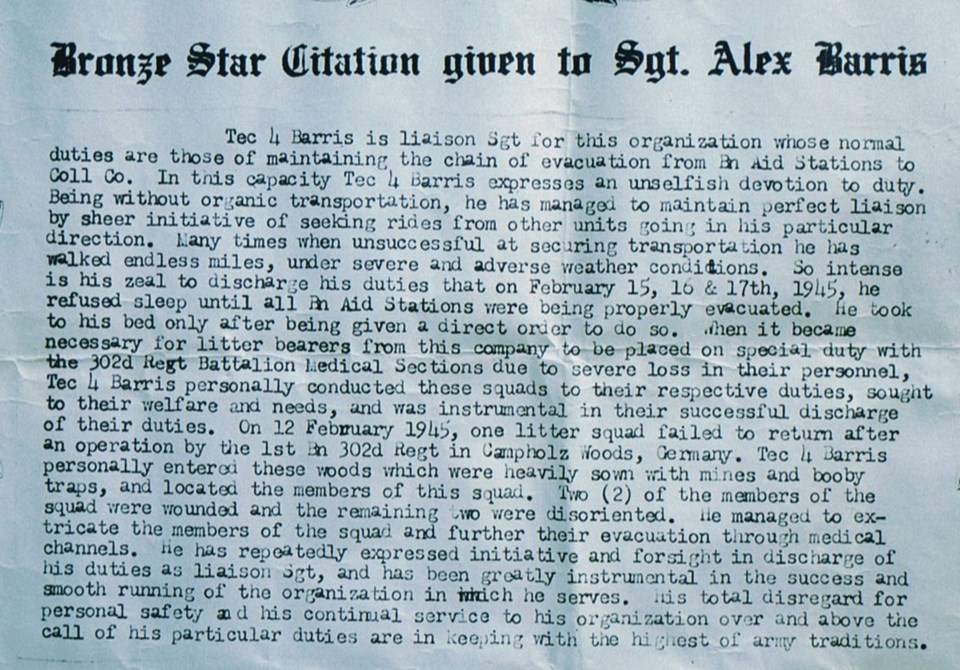 link