Facebook is ending the ability to share news on its platform
Company is responding to government's C-18 law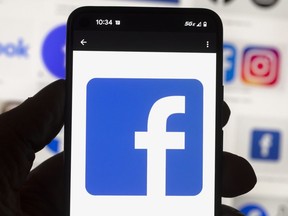 Article content
OTTAWA — Facebook's parent company, Meta, is following through with its threat to end the availability of news on its platforms beginning Tuesday, preventing Canadians from sharing news articles on its social media sites.
The change is the company's response to C-18, the Online News Act, the new federal government law that would force tech giants Meta and Google to negotiate deals with Canadian news publishers to pay for their content.
Article content
The company had warned the government this would be its approach to the law, which will come into effect by the end of the year. It will remove news for all Canadian users over the course of the next few weeks.
Streaming giants rebuff CRTC's push for early Cancon payments, before regulations are finalized

Canada's plans for digital services tax could break 'fragile' global deal: experts
Rachel Curran, the company's Canadian head of public policy, said the law is unfair.
"For many months, we have been transparent about our concerns with the Online News Act. It is based on the incorrect premise that Meta benefits unfairly from news content shared on our platforms, when the reverse is actually true," she said. "News outlets voluntarily share content on Facebook and Instagram to expand their audiences and help their bottom line. In contrast, we know the people using our platforms don't come to us for news."
Curran said they hope the government changes its approach.
"In the future, we hope the Canadian government will recognize the value we already provide the news industry and consider a policy response that upholds the principles of a free and open internet, champions diversity and innovation, and reflects the interests of the entire Canadian media landscape."
Article content
The company's change means users won't be able to share Canadian news stories on Facebook or Instagram. International outlets will also not be visible on Canadian Facebook pages.
Paul Deegan, president and chief executive officer of News Media Canada, said the company's move was rash, before the rules have even been finalized.
"All stakeholders should act in good faith to ensure that the regulations are fair, balanced and predictable for all. Removing news would downgrade user experience and devalue Facebook," he said.
The federal government and several provinces have already removed advertising from Facebook in response to the threat to cut off Canadian news. Deegan said they hope others follow suit.
"We expect more Canadian corporate and government advertisers will halt advertising on the platform as a result of this undemocratic move to 'unfriend' Canada."
Newly appointed Heritage Minister Pascale St-Onge called Facebook's move "irresponsible."
"They would rather block their users from accessing good quality and local news instead of paying their fair share to news organizations. Google and Facebook earn 80 per cent of all digital advertising revenue in Canada," she said in a statement.
Article content
She said the government has no intention of backing down and suggested other countries are looking to Canada to take a lead on this file.
"Facebook is trying to send a message, not only to Canada, but to other countries like New Zealand, the United Kingdom, and the United States. We're going to keep standing our ground."
The federal government has said that since 2008, close to 500 media outlets in 335 communities across Canada have closed, with more than 20,000 journalists losing their job, while Google and Meta continue to bring in billions in advertising dollars.
Conservative Leader Pierre Poilievre said this means the Liberals' law is effectively censoring the internet, cutting Canadians off from the news. He pledged to be an advocate for free speech.
"Whether it's big tech, or Trudeau's big government, censorship is always and everywhere wrong. That's why I will bring home freedom of speech online, on campus and anywhere else in this country, because I believed that I can win an open debate."
Twitter: RyanTumilty
Email: [email protected]

link