Overcrowding in public schools reducing quality of education for kids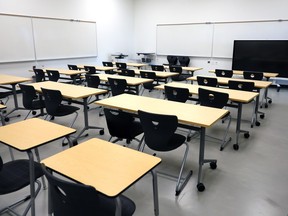 Article content
As the reality of unprecedented enrolment growth hits schools this month, students and teachers are facing overcrowded classrooms and learning spaces spilling into hallways, libraries, gyms and staff rooms.
The province has argued it is funding for growth, even as more than 7,000 new students arrive at Calgary's public schools this fall, on top of last year's 5,000.
Article content
But advocates say provincial investments are not nearly enough to deal with a historic influx attributed to many factors, including students returning to school post-pandemic, refugees arriving from wartorn countries, or Canadians moving here for jobs or a lower cost of living.
"Teachers are seeing class sizes in the high 30s, sometimes even the low 40s, across all grades. And this is very problematic, with more of these students arriving with complex needs, many having to learn English as a second language," said Jason Schilling, president of the Alberta Teachers' Association.
"And there are serious space issues. Some schools are using staff rooms, libraries, gymnasiums, even the boot room to have classes in. That shouldn't be acceptable to anyone, running classes in boot rooms in a school."
Schilling added that students have also been forced to share desks or use tables and back counters within classrooms in place of desks.
Advocates say Alberta is Calling campaign can't fit new kids into overcrowded schools

Calgary school boards assess thousands of refugee students arriving since July
Article content
Government funding boost 'not nearly enough' to address surge of new students
While the province did provide a 5.2 per cent increase to education funding in its spring budget — including $840 million to hire 3,000 new teachers — Schilling argued a province that's growing as fast as Alberta needs significantly more for student supports.
"It's not nearly enough," Schilling said, pointing to a Statistics Canada report earlier this year that showed Alberta's per-student funding is the lowest in the country.
"We are going to see a crisis in our public education system if the government doesn't seriously look at the implications of class sizes in our schools.
"Students are not getting the time they need, and that they deserve with their teachers."
Stephani Clements, president of Alberta Teachers' Association Local 38, argued government policy to fund fuller schools at or above an 85 per cent utilization rate is also causing overcrowding.
"We have seen classes being held in communal spaces such as learning commons and foyers, and in spaces intended to be used as a staff room," Clements said.
Article content
"This is not a new phenomenon but it is becoming more prevalent as the number of Calgary schools at or above capacity continues to grow. Calgary students deserve adequate space to learn and grow."
Officials with the Calgary Board of Education have said they won't be certain of final enrolment numbers until the beginning of October.
The CBE has been hiring teachers all summer, with an aim to add more than 700 school-based staff this year. But with nearly 250 public schools serving CBE students, that only works out to about two to three new staff per building.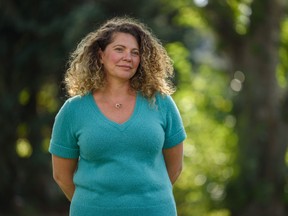 Concern if schools forced to balance class sizes
Medeana Moussa, spokeswoman for the Support Our Students advocacy group, said when you break down how thinly the total number of teachers will be spread, parents are concerned.
She added that as principals work to balance class sizes for the school year, she worries a lack of teachers will see students increasingly forced into "split classrooms."
For example, if there are 18 Grade 5s and 17 Grade 6s, a school short on staff will often combine those students to create one Grade 5-6 class of 35 students and one teacher.
Article content
"A split class can be challenging for any student," Moussa argued.
"Students in the higher grades may not be challenged, or students in the lower grade might have to prepare for a provincial achievement exam, and lose out on their own curriculum being taught.
"At the same time, the teacher, who already has a crowded class, is tasked with having to teach two separate curriculums."
Schilling said a big part of the class size problem falls on the UCP government's unwillingness to mandate reporting, ensuring that ballooning class sizes remain hidden.
"If we collected and reported the data, it would give us a sense of actual numbers in schools. But we don't have official numbers, they're hidden. And if you don't have the evidence that classes are growing, then it's not a problem you have to deal with."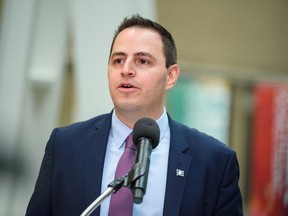 Alberta government says it's working to reduce enrolment pressures
Officials with Alberta Education did not answer questions about why they won't mandate class-size reporting, saying only that growth is being addressed.
"We are working hard to keep up with enrolment pressure by increasing funding and building new schools," said Education Minister Demetrios Nicolaides.
Article content
"More specifically, we are increasing spending on education by $2 billion over the next three years, which includes $820 million to hire over 3,000 more teachers and education staff.
"As well, we've already approved 58 school projects across the province, and I will be working to build more schools in our growing communities."
Meanwhile, Alberta Opposition NDP Education critic Rakhi Pancholi launched a survey less than a week ago asking parents, teachers and students to report class sizes, and has already received hundreds of responses.
"Sadly, the responses we are receiving are reflecting the difficult impacts of the lack of support for public education from the UCP government," Pancholi said.
"Provincewide, we have thousands more students every year enrolling in school and not nearly enough teachers, EAs and schools to keep up. After four years of the UCP, Alberta's per-student funding has gone from the third highest in the country to the lowest. That says a lot about how much they value our kids.
"And Alberta teachers report the largest increase in class sizes in the country."
The survey can be taken at http://www.albertasfuture.ca/event-registration/classroomsurvey
---
No Facebook? No problem.
Meta has blocked news articles from appearing in Canada through its social media platforms Facebook and Instagram, so skip the gatekeeper and come straight to the source.
link