Perennial Windsor candidate Ernie 'Bacon Man' Lamont in hospice care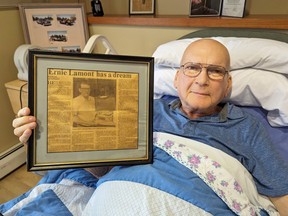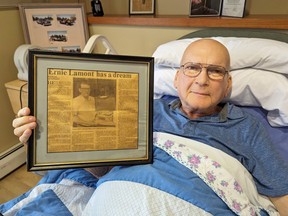 Article content
Ernie Lamont is not afraid to die.
Lying in a hospice bed in Windsor, the 76-year-old known as The Bacon Man who ran for mayor and city council seats 10 times is surrounded by personal memorabilia.
Article content
On either side of him are pictures of the advertisement-covered vehicles he drove around the city to sell meats. Over his right shoulder sits a framed Windsor Star article from 1996 about a time city council actually agreed to one of his many schemes: selling advertising space on 100 parking meters.
Article content
On the shelf above his head rests an official certificate of recognition from the City of Windsor for the "valuable role" he played in the community. It's signed by Mayor Drew Dilkens.
"When I do die, I'm going out a happy man for what I've accomplished in Windsor," Lamont told the Star.
Well-known throughout Windsor for his iconic moniker, numerous unsuccessful campaigns, and far-fetched ideas to bolster the city, Lamont was diagnosed with prostate cancer in June of 2022, one month into his sixth campaign for the mayoral seat. The disease caused unbearable pain and prevented him from his traditional door-knocking.
By Labour Day of this year, he could no longer lift boxes of meat out of his truck bed. That's when he called it quits after 46 years in the Bacon Man business.
Though his face has lost its colour and his voice grows weak, his passion for Windsor remains strong. In an interview with the Star this month, he continued to spout his dreams for the city, including tearing down the Paul Martin building and replacing it with a downtown aquarium, and building a "mega-casino" with an amusement park and swimming pool on airport land.
Article content
He maintains he's responsible for bringing casino gambling and its thousands of jobs to Windsor by pitching the idea to city council in 1991, a feat he wants to be remembered for.
You gotta have vision
"People don't have vision. You gotta have vision, you gotta think outside the box," Lamont said, pointing a finger at his temple.
The certificate of recognition Dilkens presented Lamont following his move into The Hospice of Windsor and Essex County says Lamont has "played a valuable role" in the city.
"Through your many bids for a city council seat and the mayor's chair, you have shown great resolve in sharing your ideas about building a strong community," the certificate said.
"Your ideas covered topics such as regional development, infrastructure, housing, parks and recreation, quality of life initiatives, and more. Through it all, you demonstrated passion and care for the community you call home, and I thank you for your efforts.
"I wish you peace and satisfaction in the knowledge that you made a difference."
In an interview with the Star, Dilkens called Lamont one of the city's "fine characters." He said he admires Lamont for running for office and sharing his ideas with the public.
Article content
"As much as we may disagree on certain issues, Ernie and I, there's one thing we agree upon, and that is, we want to see the city succeed."
Lamont ran for Windsor's mayoral seat six times, and four times for councillor in various wards. Though he usually garnered less than six per cent of the vote — he received about 10 per cent of the vote in the race for Ward 8 in 2010 — he did contribute a wealth of ideas during each election.
His penchant for service and giving back stems from a childhood riddled with abuse, he said. His mother died when he was four, and his father struggled with substance abuse.
"After that, Bacon Man had a drive to do something different."
At age 18, he worked as a busboy and organized dances for teens, bringing joy to young people. He would go on to organize a Battle of the Bands competition, run a limousine service, and work for Ford Motor Company before becoming the Bacon Man and starting an advertisement business, selling meats and cheeses out of vehicles plastered with ads.
"Years later, I had a knack for going to city hall for different items — I just felt that I was doing something good for the taxpayers, speaking up on their behalf," he said.
Article content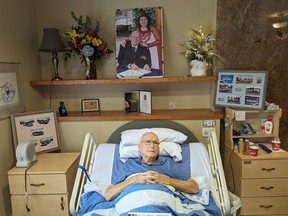 More than 200 Windsor Star articles dating back to the 1980s mention Lamont by name. He's had many of them laminated or framed and has them stored in boxes in his hospice room.
The news articles detail his appearances before city council and countless campaign promises, including a four-year tax freeze, slaughtering Canada Geese and feeding them to soup kitchen visitors, charging people a toll for driving in and out of the city, and a brothel in the former Cleary International Centre.
Inside one of his boxes of news articles is a drawing and a paragraph describing Lamont by the late Windsor cartoonist Bob Monks, who called Lamont Windsor's townhall "crackpot," and credited him with the idea for a casino. The cartoon depicts Lamont holding up a sign that reads "casino" next to an open car trunk with the Chrysler minivan plant in the background.
For a time, Lamont wanted city hall to let him hold week-long rock concerts and sell his wares in front of the plant.
Related Stories
Ernie Lamont battling cancer on campaign trail

'Even if I lose, I win,' says recurring mayoral candidate Lamont

None
Although he doesn't feel the city has treated him fairly with its repeated dismissal of his ideas, Lamont said the people of Windsor have been "great" to him.
"Not everybody likes Ernie Lamont because of my vision and politics, but I would say overall, Windsor's been good to me and I've been good to them.
"If I could have done more, I would have kept on doing it. I really don't feel like I'm dying."

link