Republicans downplay tape of Trump admitting he didn't declassify documents
How the Florida judge overseeing Trump's trial could hobble the Justice Department's case
The federal indictment of Donald Trump, unsealed Friday, was filled with startling new accounts of how the former president allegedly mishandled classified information. But the revelation of who would oversee the case could present unique challenges for the Justice Department. 
U.S. District Judge Aileen Cannon, a former prosecutor in her early 40s who has spent 2½ years on the bench, is the same Trump appointee who repeatedly ruled in his favor in a related case. She will now oversee a trial that experts believe could influence the American public's trust in the fairness of the court system for years to come. Cannon will guide how quickly the case goes to trial, oversee the selection of jurors and determine what evidence can be presented to the jury.
Stephen Gillers, a professor of legal ethics at New York University School of Law, predicted that the trial would be fair. But he said Trump's claims that he is being selectively prosecuted and politically persecuted could undermine public trust in the nonpartisanship of the courts, the Justice Department and the FBI. 
"This will be the most consequential and most watched prosecution in American history," Gillers said. "Will enough of the public believe it, whatever the verdict? Or will they see any result as political? Answers to those questions are as important as the verdict."
Read the full story here.
Judge John Goodman will oversee Trump's arraignment, source says
Magistrate Judge John Goodman will oversee Trump's arraignment Tuesday, a source with direct knowledge of the situation said. A magistrate judge holds preliminary hearings.
U.S. District Judge Aileen Cannon of the Southern District of Florida is still set to oversee the trial unless she recuses herself. She was chosen randomly, a court official said. 
Trump to deliver post-arraignment remarks in New Jersey on Tuesday
Trump will deliver remarks at 8:15 p.m. from his golf club in Bedminster, New Jersey, after his scheduled arraignment Tuesday in Miami, his campaign said in a statement.
Trump held a similar event at Mar-a-Lago in April after his arraignment in New York, which stemmed from a separate criminal investigation. In that case, h was charged with 34 felony counts of falsifying business records related to his alleged role in hush money payments toward the end of his 2016 presidential campaign.
The event in Bedminster on Tuesday night had originally been scheduled to be a closed press and private fundraiser for Trump's 77th birthday, which falls on Wednesday.
N.H. Gov. Sununu urges Republicans to 'acknowledge' gravity of Trump indictment
New Hampshire Gov. Chris Sununu called on GOP presidential candidates Sunday to "come out and acknowledge" the gravity of Trump's federal indictment.
"They have to come out and acknowledge this is different, this is serious," Sununu, a Republican, said on CBS News' "Face the Nation." "If even half of this stuff is true, he's in real trouble. And it is self-inflicted.
"And I just see too many of the candidates trying to walk around it: We'll see what happens," he added.
Sununu, who announced this month that he's not running for president, said the GOP shouldn't put the onus only on presidential candidates to criticize Trump.
"Everybody needs to come out in concert, so it's not just a Chris Christie hitting Donald Trump or this candidate hitting Donald Trump," he said. "It is a party message. That's very, very important, because Donald Trump doesn't represent the Republican Party."
Indictment hasn't really changed Republicans' perception of Trump, polls indicate
Two polls released Sunday indicate Trump's federal indictment hasn't had a significant impact on Republicans' perception of the former president as he seeks re-election.
Two in 3 of Republicans who support Trump, 67%, say he shouldn't have been charged, according to an ABC News/Ipsos poll. Most Republicans, 80%, who were polled also say the charges were politically motivated.
Most Republican primary voters, 76%, also said they're concerned that Trump's indictment was politically motivated in a new CBS News poll. A majority, 61%, ruled out that the charges would change their views of Trump, and 80% of Republican primary voters said he should win a second term in office.
Audio of Trump is the smoking gun, legal analysts say
The recorded conversation in the indictment of Trump admitting he did not declassify documents serves as proof of unlawful conduct, two legal analysts said Sunday.
Preet Bharara, the former U.S. attorney for Southern New York, argued on ABC News' "This Week" that "the most damning piece of evidence" is the transcription of audio in the indictment. "This audiotape simultaneously makes out many of the elements … of the crimes and simultaneously rebuts and debunks his defenses," Bharara said.
"He couldn't declassify telepathically. He couldn't declassify automatically. There was no standing order. And this tape makes that very, very clear," he said.
Asha Rangappa, a former FBI special agent, similarly argued that the audio distinguishes the case from the investigations into Joe Biden's and Mike Pence's handling of classified documents.
"These are all his own words that he's using," she said. "There's audiotape of him knowing that this is classified information. There are text messages. The receipts are here that this is conduct that I don't think Mike Pence or Joe Biden engaged in in any way at all."
Biden plans to keep quiet about Trump documents charges
WASHINGTON — Don't expect President Joe Biden to comment about the 37-count indictment that accuses Trump of risking some of the country's most sensitive security secrets after he left the White House in 2021.
Administration officials plan to maintain their silence on the Trump indictment, a reflection of Biden's view that no president should interfere with the Justice Department, administration sources said.
Given that Trump is Biden's chief rival in the 2024 presidential race, the campaign should proceed carefully in any mention of the charges, some political experts say.
Many fellow Republicans who are challenging Trump in 2024 have rebuked the Justice Department, not Trump, over the documents and accused Biden of "weaponizing" the department, even though Trump's indictment was handed up by a grand jury.
So far, Biden's campaign has not mentioned the indictment. 
Trump's travel plans this week
Trump's movements will be closely tracked in the coming days.
The former president plans to leave his golf club in Bedminster, New Jersey, on Monday morning and head to Newark Liberty International Airport, where he will board a flight to Miami International Airport, according to a source familiar with his travel agenda. He will spend Monday night at the Trump National Doral Miami golf resort.
He is scheduled to be arraigned Tuesday afternoon in a Miami federal court in front of a judge he appointed to the bench.
He will then return to the Miami airport, fly to Newark and head back to Bedminster, where he is expected to attend a fundraiser at his golf club in honor of his 77th birthday Wednesday, the source said.
Trump supporters have called for protests at Miami federal court, online sleuths warn
Trump supporters have called for protests at the federal courthouse in Miami, where the former president is scheduled to surrender Tuesday, according to a security update by Advance Democracy, a nonpartisan, nonprofit investigative group that monitors social media for extremist content.
There is no evidence of "plans for violence or large scale disruptive activity," the group said.
Multiple users on Trump's social media platform, Truth Social, continue to call for his supporters to protest at the courthouse, including conservative activist and talk show host Charlie Kirk.
Advance Democrat said that "these posts frequently highlight the Florida Southern District Courthouse as a target for protest" but that "ADI did not identify any threats of violence among these users."
In late 2020, the group flagged numerous threats and planning for violence on social media before the Capitol riot on Jan. 6, 2021.
'This indictment must now play out through the legal process,' Schumer says
In brief remarks after the indictment was unsealed, Senate Majority Leader Chuck Schumer again urged the public to remain calm and allow Trump's case to play "peacefully through the court."
"No one is above the law," said Schumer, D-N.Y. "This indictment must now play out through the legal process without any outside political or ideological interference."
Former AG Barr says Trump indictment is 'very, very damning'
William Barr, who was attorney general during the last two years of Trump's term in the White House, described the federal indictment in an appearance on "Fox News Sunday" as "very, very damning."
"If even half of it is true, then he's toast," Barr said, explaining that he was frankly "shocked by the degree of sensitivity of these documents and how many there were."
Barr pushed back against Trump's claims that he was being wrongly persecuted: "The idea of presenting Trump as a victim here — a victim of a witch hunt — is ridiculous."
Later Sunday, Trump fired back in a post to his social media platform, Truth Social, calling Barr a "disgruntled former employee who was "weak & totally ineffective."
Graham: 'I haven't heard the audio' of Trump admitting the documents were secret
Sen. Lindsey Graham, R-S.C., defended Trump when he was repeatedly pressed Sunday about a recorded conversation in the indictment of the former president admitting he didn't declassify the documents.
"I don't know what happened. I haven't heard the audio," Graham, one of Trump's loudest GOP allies, said in an interview on ABC News' "This Week."
"Donald Trump, you may hate his guts, but he is not a spy. He did not commit espionage," Graham said.
Pressed again about the recorded conversation, Graham insisted that he was "not saying it's OK."
"What's happening in Manhattan to Donald Trump has never happened to anybody in the history of New York," he said. "I think the espionage charges are completely wrong, and I think they paint an impression that doesn't exist."
Marshals Service says it will 'ensure the integrity of the federal judicial process'
Ahead of Trump's arraignment Tuesday in Miami, the U.S. Marshals Service said it would take steps to protect the federal judicial process.
"The U.S. Marshals are responsible for the protection of the federal judicial process, and we take that responsibility very seriously," the law enforcement agency said in a statement. "Ensuring that judges can rule independently and free from harm or intimidation is paramount to the rule of law, and a fundamental mission of the USMS.
"While we do not discuss our specific security measures, we continuously review the measures in place and take appropriate steps to ensure the integrity of the federal judicial process."
Ramaswamy, after reading indictment, doubles down on vow to pardon Trump
Long-shot Republican presidential candidate Vivek Ramaswamy, who is polling at around 1.8% in the early race for the GOP nomination, stood by his promise to pardon Trump if he is elected.
Before Trump was indicted last week, Ramaswamy pledged to issue a pardon if he was convicted. He said on CNN's "State of the Union" that after having read the indictment, he's "even more convinced that a pardon is the right answer."
Former Arkansas Gov. Asa Hutchinson, who is also in the GOP race, criticized Ramaswamy's remarks.
"Well, that's wrong," Hutchinson said on CNN. "It is simply wrong for a candidate to use the pardon power of the United States of the president in order to curry votes."
Trump lawyer offers preview of defense case: 'He would never admit guilt'
Trump lawyer Alina Habba offered a preview of the defense's case in an appearance on "Fox News Sunday."
She said she could "never imagine" a scenario in which Trump would plead some of the charges away to focus on his presidential campaign. 
"I would never advise that, especially when he's not done anything wrong," she said. 'You take a plea deal to make something go away. That's an admission of guilt. He would never admit guilt."
In response to a widely circulated photo in the indictment that shows documents on the floor at Mar-a-Lago, Habba said: "There is context to everything.
"That context will be brought out on defense," she said. "We have not had an opportunity to give our side."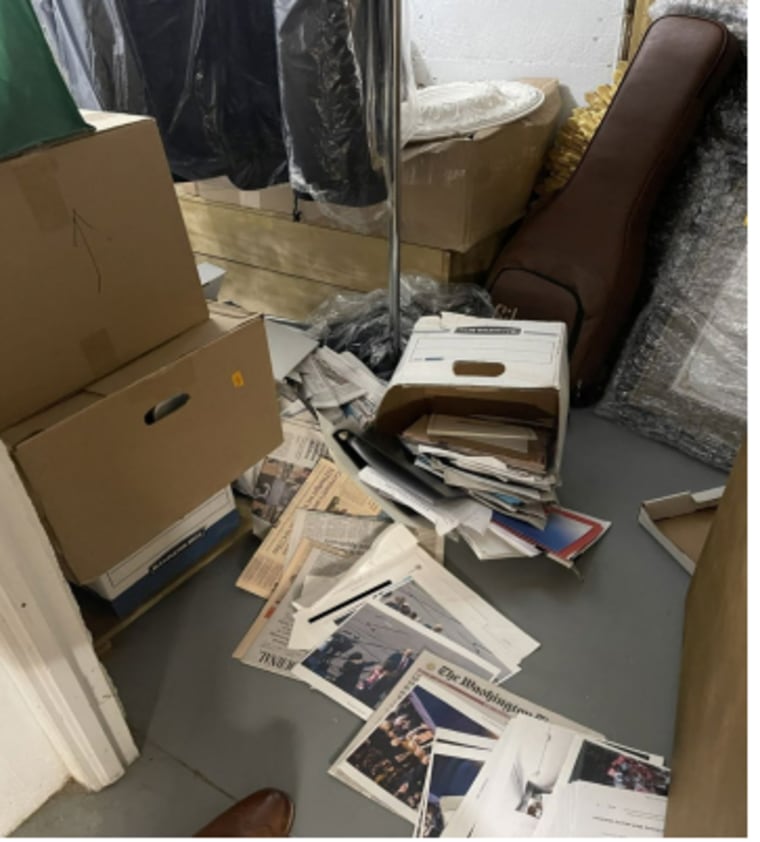 Rep. Dan Goldman: Indictment shows Trump didn't declassify documents
Reps. Jim Jordan, R-Ohio, and Dan Goldman, D-N.Y., weighed in on Trump's claim that he had declassified documents before he took them to Mar-a-Lago in interviews on CNN's "State of the Union" this morning.
Asked whether he has seen evidence to support the former president's claim, Jordan, a staunch Trump ally and chairman of the House Judiciary Committee, argued that Trump as president could declassify any of the documents and that he did: "I go on the president's word, and he said he did."
Goldman, who was lead Democratic counsel in Trump's first impeachment, disagreed, pointed to a recorded conversation in the indictment that indicates Trump privately knew the documents were still secret.
"There is no question, based on his private recorded conversations, that he did not declassify these documents," Goldman said. "Mr. Jordan and Donald Trump and his defense team can try to spin this any way they want. But the evidence based on his own recording his own voice says to the contrary."
The indictment, which was unsealed Friday, quotes Trump saying that "as president I could have declassified it" and that "now I can't, you know, but this is still a secret."
Trump delivers fiery post-indictment speech: 'They're coming after you'
COLUMBUS, Ga. — Donald Trump's legal defense did not start in a courtroom. It began on the banks of the Chattahoochee River.
After his historic federal indictment, the former president stepped onstage Saturday in front of more than 2,000 people packed into a convention center here to once again declare his innocence and deliver a grievance-laced takedown of what he said was a biased federal law enforcement apparatus.
"In the end, they're not coming after me. They're coming after you — and I'm just standing in their way," Trump said.
"The ridiculous and baseless indictment of me by the Biden administration's weaponized Department of Injustice will go down as among the most horrific abuses of power in the history of our country," he said. "Many people have said that; Democrats have even said it. This vicious persecution is a travesty of justice."
Read the full story here.

link