Spanish soccer president Luis Rubiales resigns over nonconsensual Women's World Cup kiss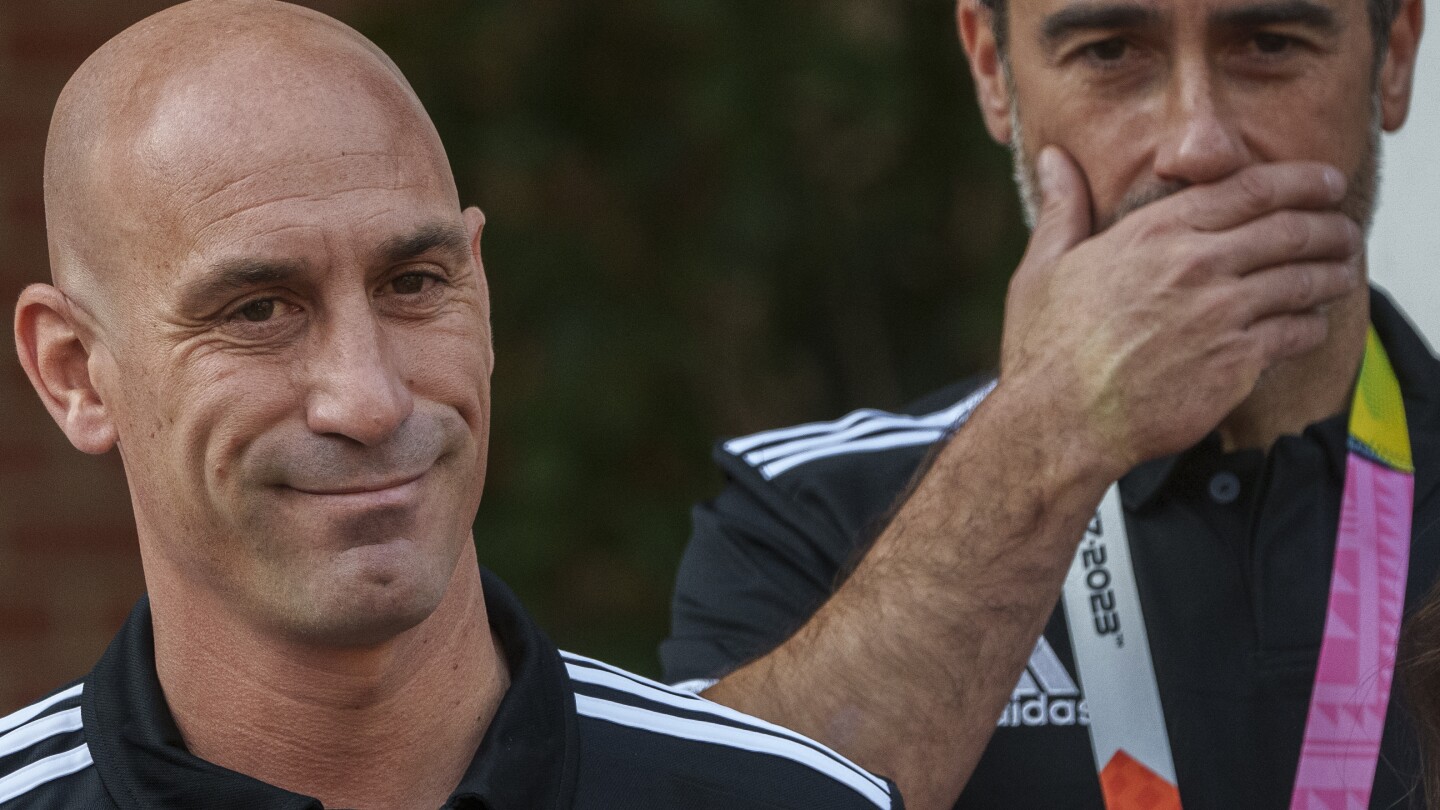 BARCELONA, Spain (AP) — Luis Rubiales, the suspended head of the Spanish soccer federation, finally folded under immense pressure Sunday and resigned three weeks after his kiss of a player on the lips overshadowed Spain's first-ever Women's World Cup title.
Rubiales had been at the center of a controversy that had gone far beyond Spain's borders and the world of sport after he kissed Jenni Hermoso during the globally televised awards ceremony after Spain beat England to win the title on Aug. 20 in Sydney, Australia. The player said the kiss was without her consent.
"After my swift suspension by FIFA, and the rest of the cases building against me, it is clear that I cannot return to the post," Rubiales said on Sunday in a message posted on X, formerly known as Twitter.
He had already been temporarily suspended from his job by FIFA for his conduct at the final and, after soccer's world body opened a disciplinary case, remained defiant and hostile toward those who criticized him.
Then came the most serious threat yet to Rubiales, when Spanish state prosecutors accused him on Friday of sexual assault and coercion after the kiss, two days after Hermoso formally accused him of sexual assault.
Once the most powerful man in Spanish soccer, Rubiales insisted the kiss was consensual and done in a "moment of jubilation." He said it was like one "I could give one of my daughters."
Hermoso denied that claim in statements issued by her and her players' union. The player also said she and her family were pressured by the federation to show her support for Rubiales. Fans, players and politicians publicly disagreed with Rubiales and saw it as a sexist act and the abuse of authority.
"The former president of the Spanish soccer federation has done what he had to do," Spain's Secretary of State for Sport Víctor Francos told Spain's Cadena SER radio. "I think it is what practically the entirety of Spanish society had asked him to do."
Rubiales said he had also resigned as UEFA vice president due to the reputational danger the scandal could inflict on Spain's joint bid to host the 2030 men's World Cup along with Portugal, Morocco and possibly Ukraine.
Rubiales said that he had told interim Spanish federation president Pedro Rocha — who replaced him when Rubiales was suspended on Aug. 26 — of his resignation late Sunday night. The Spanish federation confirmed Rubiales' resignation in a statement, adding that it would follow its statutes and call an election for a new president.
Also Sunday, Rubiales said "I am going to (resign), I cannot continue my work," in reply to a question from TV host Piers Morgan on Britain's TalkTV. Clips from the show were released Sunday at a similar time to Rubiales' social media post appearing.
"My father, my daughters, I spoke with them … and some friends very close to me, and they say to me 'Luis, now you have to focus on your dignity and to continue your life, because if not, probably you are going to damage people you love, and the sport you love,'" Rubiales told Morgan.
"In this situation now, (it is) the thing I have to do."
Two weeks ago, Rubiales had been expected to step down amid the immediate wave of criticism for his conduct at the final, which included a lewd gesture of grabbing his crotch, with Spain's Queen Letizia and her teenage daughter, Princess Sofía, nearby. Instead, in a defiant Aug. 25 speech before his federation's general assembly, he refused to go quietly and claimed he was victim of a "witch hunt" by "false feminists."
That led FIFA to provisionally suspend him just one day later; the Spanish government starting a motion to have him ruled unfit to hold his office; and Hermoso's accusation of sexual assault.
Rubiales' behavior at one of soccer's premier global events had drawn scorn from Spain's politicians, its soccer leagues, clubs, players and fans, amid talk of a "Me Too" movement in Spanish soccer. The uproar against Rubiales coincides with a strike by Spain's women's league as its players call for higher wages.
Rubiales' public supporters — other than his mother, who held a short-lived hunger strike in a church in southern Spain — soon abandoned him. Those included the coaches of Spain's women's and men's teams. His own federation also publicly asked him to step down.
After Spain's state prosecutors opened the door to him facing criminal charges – and even possible prison time if convicted — Rubiales finally agreed to resign.
"Insisting in waiting and hanging on would not contribute anything positive (for) either the federation or Spanish soccer, among other reasons, because the powers that be would stop me from returning (to my job)," Rubiales said in his statement.
After Rubiales accused Hermoso of lying about what he said was a kiss she had consented to, Spain's women world champions, along with dozens of players, refused to play again for their country until there were changes in the federation's leadership. The firing of the unpopular women's team coach was not enough by itself for them to come back.
No. 2-ranked Spain is scheduled to start the Women's Nations League on Sept. 22 in a visit to top-ranked Sweden. Spain beat Sweden in the World Cup semifinals.
Hermoso, 33, now plays for Mexican club Pachuca after a long career in Europe. She helped Barcelona win the 2021 Women's Champions League, and came second in Ballon d'Or voting to teammate Alexia Putellas that same year.
Rubiales will also resign as a vice president at UEFA, the European soccer body which pays him 250,000 euros ($268,000) annually in a job he was appointed to in 2019. He first had to be elected onto UEFA's executive committee by European soccer federations. UEFA has taken no action against Rubiales, even after FIFA opened a disciplinary case 18 days ago.
MEN'S WORLD CUP
Spain's government had expressed its concerns that Rubiales would end up hurting Spain's joint bid to host the 2030 edition of the men's World Cup. Rubiales, who had led the bid, appears to have finally agreed, according to his statement, while still maintaining his belief that he was being too harshly judged.
"I don't want Spanish soccer to be hurt by this exaggerated campaign against me, and above all, I take this decision after being assured that my exit would help contribute to the stability that will allow both Europe and Africa to stay united for their dream of 2030, which will permit the greatest sporting event in the world to go to our country," he said.
The bid has been strongly favored to win the hosting rights in a campaign that FIFA wants decided by late 2024.
An election to replace Rubiales on the UEFA ruling committee can be held in Madrid next February when the Spanish federation hosts the next annual meeting of UEFA member federations.
SAUDI DEAL
Rubiales, 46, is a former player and head of Spain's main players union. He had run the federation since 2018.
He has not shied away from controversy since but, proving to be a shrewd deal maker, he shored up internal support by boosting revenues for the federation and spreading them around.
In part, Rubiales was tolerated because he was considered better than his predecessor, Ángel Maria Villar, who was in power for nearly three decades before he was arrested on suspicion of corruption.
Rubiales made 339,000 euros ($365,000) in 2021 after taxes for presiding over the federation with a budget of 382 million euros ($412 million). The federation runs Spain's men's and women's national soccer teams and its semi-professional and amateur soccer leagues. It also organizes the referees. The government maintains some oversight of the entity but it cannot name or remove its executives.
Rubiales' biggest decision was to take the Spanish Super Cup to Saudi Arabia – now the big draw for top European talent like Cristiano Ronaldo – in exchange for $40 million a year. The clubs and federation loved the cash, but the move was criticized by women's and human rights groups for the regime's treatment of women and minorities. Spanish authorities also scrutinized the deal, and an investigative judge is probing the legality of the Super Cup contract s.
The controversy not only drew attention away from the greatest victory for women's soccer in Spain. It also tarnished Spain's greatest achievement in soccer overall — in both men's and women's teams — since Rubiales took charge before eventually leading to his own downfall.
___
AP Sports Writer Graham Dunbar contributed from Geneva, Switzerland.
____
AP soccer: https://apnews.com/hub/soccer

link