St. Gemma School opens for high schools students facing poverty
St. Gemma Outreach High School opened this year, supporting up to 30 high-school students through highly flexible programming and a series of wrap-around services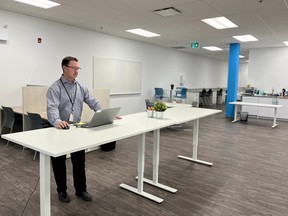 Article content
A unique Calgary school is working to stem a troubling tide of students facing poverty and homelessness, with advocates warning the past year has seen an alarming rise in families without shelter.
A perfect storm of rising costs, inflation and a housing crisis has pushed more families than ever onto the streets — living in cars, malls or CTrain stations as shelters supporting families fill up, officials say.
Article content
"This is an escalating crisis," said Heather Morley, executive director with Inn From the Cold, which supports families without homes.
"Since the pandemic, families have faced affordability issues, having trouble paying for food, rent or their mortgage.
"But now we're seeing it escalate more than ever . . . and children are the critical piece. The fear, the trauma they're experiencing is devastating."
Inn From the Cold has seen an 83 per cent increase in families seeking help over the past year, with an estimated 2,900 children placed in shelters across the city.
The average length of stay for families in shelters has grown to more than 75 days, up from an average of 30 days a year ago,  Morley said.
And the lack of stable housing, she added, is particularly challenging for kids in school, who are often bounced from different locations, and face significant interruptions in their academic development.
New high school supporting up to 30 high-school students through flexible programming, services including meals and counselling
The Calgary Catholic School District is hoping to make a difference with a small, storefront school in the northeast to support students facing complex challenges, from mental-health and addiction recovery, to poverty and homelessness.
Article content
St. Gemma Outreach High School opened this school year near Sunridge Mall, supporting up to 30 high-school students through highly flexible programming and a series of wrap-around services — from daily meals and counselling, to referrals for an array of other community supports for mental health, addictions or housing needs.
While school doesn't officially start until 9 a.m., principal Gord MacDonald says many students are arriving much earlier, eager to learn in the unique, supportive environment.
"These kids have faced a lot of challenges in their lives, traumatic life experiences — they may be recovering from addictions, they've faced mental-health challenges, some have spent time in the criminal justice system," MacDonald said.
Others, he added, are homeless, facing poverty within a family or living on their own, couch surfing, moving from one friend's house to another.
"We greet all of these students every day with happiness, asking them where they're at, and meeting their needs in that moment."
MacDonald admits CCSD has seen a significant increase in the number of students needing stronger supports around poverty, addiction or mental health.
Article content
Other programs also exist within several Catholic high schools, he said, but the students at St. Gemma are so challenged that they have not been successful in a regular high-school environment.
"The number of students needing these types of supports is increasing so much that we are really stretching our resources.
"And when you stretch resources, you're stretching the quality of them as well. So we're looking to how we can support these kids better."
Some students in Calgary contemplate homelessness as fall semester begins

Food Bank scrambles to keep up with exploding demand

Homelessness slightly down in Calgary since 2018, according to September head count
Requests for behaviour consultants have risen dramatically since 2020
Advocates are lauding existing programs for students within schools, but say the supports aren't nearly enough.
Meaghon Reid, executive director of Vibrant Communities Calgary (VCC), says Calgary has never seen a housing crisis like this, with rents and interest rates rising, but also basic costs such as food.
"There is nowhere for families to find money in their budgets anymore. It means parents are under serious stress, and children, who may be waking up in a van in the morning and living in situations that are not at all conducive to studying, those effects are profound and long lasting."
Article content
Reid says VCC has seen rents increase nearly 30 per cent over the past year, while average family incomes have only risen by about one per cent.
"We are quite aware of people who have been in these situations for a long time, and many can navigate the system, they know where to access support.
"But I am increasingly worried about families who are finding themselves in this situation for the first time, and they may not know how to ask for help until it is too late," she said.
"In a country, in a province, where we have so much money, this is just not acceptable."
CCSD has seen increases in what they track as "requests for support" for a variety of special-needs staff.
From 2020 to 2023, for instance, CCSD saw requests for behaviour consultants rise from 691 to 859, for special-needs consultants from 283 to 428, and for the mental-health and wellness team from 185 to 312.
The Calgary Board of Education offers similar outreach support through its Discovering Choices programs at four different locations. And while they could not immediately provide updated numbers, officials have said special-needs demands continue to outweigh resources.
Article content
Alberta Education said in an emailed statement that they recognize families across the province are facing poverty and economic uncertainty, and that the province is providing school boards flexible funding to support local needs.
"We recognize that good nutrition positively impacts student learning. To offset increased costs that are impacting school authorities and families, the school nutrition grant rate increased by 20 per cent to recognize the significant inflationary cost pressures on food.
"We have also increased funding for the school nutrition program and will provide school authorities with $20 million, an increase of $3.2 million for the program in the 2023/24 school year. This funding provides a daily nutritious meal to more than 58,000 students in the current school year."
---
No Facebook? No problem.
Meta has blocked news articles from appearing in Canada through its social media platforms Facebook and Instagram, so skip the gatekeeper and come straight to the source.
link