Trudeau defends trip to Jamaica, stay at 'luxurious villa'
The Conservative leader pressed the PM to explain how much he had paid for accommodation per night at a 'luxurious villa'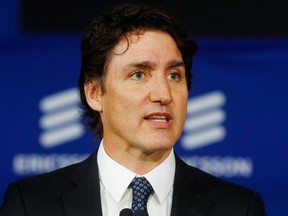 Article content
OTTAWA – Prime Minister Justin Trudeau accused Conservative Leader Pierre Poilievre of struggling "with the concept of friendship" on Tuesday, as he defended his recent stay at a luxurious Jamaican estate belonging to longtime friends of his father.
Article content
Trudeau is under fire after CBC's French service, Radio-Canada, revealed that he and his family spent the past holiday season at the Prospect estate in Ochos Rios, Jamaica, on the edge of the Caribbean Sea, where rooms cost anywhere from US$1,000 to US$7,000 a night.
The estate belonged to Sir Harold Mitchell, the late father-in-law of Peter Green, who became a friend of Pierre Elliott Trudeau dating back to the 1970s. Both the Green and Trudeau families have taken multiple vacations together in past decades, according to a government official.
The Trudeau family's stay at the Greens' estate cost Canadian taxpayers at least $162,000, which includes more than $115,000 in security costs by the RCMP and $47,000 to cover expenses of Canadian Forces flight crew members and Privy Council employees.
Article content
During question period, Poilievre pressed Trudeau multiple times to explain how much he had paid for accommodation per night at this "luxurious villa," but Poilievre was instead told he "struggled with the concept of friendship" as Trudeau explained his connection to the Greens.
"My father was godfather to one of their kids, their father was godfather to one of my brothers. This is 50 years of friendship," said Trudeau. "But, of course, we worked with the ethics commissioner to make sure all the rules were followed," he added.
But the commissioner at the time of the vacation, Mario Dion, since retired, commented on Twitter that while such gifts from friends can be "acceptable from a legal ethical point of view," it does not mean that public opinion will be of the same view and that this in his view is "healthy."
Article content
Trudeau went on to once again accuse Poilievre of "running to his American billionaire tech giant friends" such as Twitter CEO Elon Musk to "attack" CBC News and said "shame on him" for going after Canadian content and Canadian news.
"The only thing Canadian about the prime minister's vacation is the tax dollars forced to pay for it," shot back Poilievre.
Later, Government House leader Mark Holland asked the Conservatives if they believed that there should be either no security for a prime minister who travels on vacation with his family, or if they believe a prime minister should simply never take a vacation with their family.
The Prime Minister's Office confirmed that Trudeau had reimbursed "the equivalent of a commercial airline ticket for his personal travel and that of his family" but would not say what the cost of that was nor if he had reimbursed other expenses, such as the costs of the rooms.
Article content
His office also would not say if it was aware of the Green family having donated a reportedly large sum of money to the Trudeau Foundation. Trudeau has many times reiterated he has not been involved in the affairs of the foundation bearing his father's name for nearly a decade.
In 2021, the Trudeau Foundation announced that Green's sons, Alexander and Andrew Green, funded a scholarship named after their late mother, Mary-Jean Mitchell Green, who died of breast cancer, in order to support a female doctoral candidate in the field of business.
The Green family has also donated millions to support breast cancer research in the United Kingdom, where they are from, and thousands for a cancer centre in Bermuda.
The NDP and the Bloc Quebecois also blasted Trudeau for what they consider a lack of judgment for travelling with his family to a luxurious estate worth thousands of dollars a night at a time when Canadians are struggling with the high cost of living.
Article content
"I think that this vacation shows just another example of a prime minister who doesn't understand the realities of everyday Canadians," said NDP Leader Jagmeet Singh.
Bloc Quebecois Leader Yves-Francois Blanchet said that Trudeau has the right to go on vacation, but asked if it was appropriate to "live in opulence." "There's a lack of consideration and respect for the average citizen in that behaviour, and it does raise some questions about ethics," he said.
Trudeau's ministers told reporters they were comfortable with the prime minister's trip to Jamaica, and Environment Minister Steven Guilbeault went even further in saying that whatever the prime minister decided to do for his family vacation, he is bound to be criticized.
"He would have gone to a cottage in the Laurentians, and people would have found a way to criticize his vacation," he said. "There's no winning solution."
Trudeaus rang in New Year at luxury Jamaica estate owned by Trudeau Foundation donors

Justin Trudeau and a list of vacations that got him in trouble
Inside Canada's rotting official residences: Why just six properties need at least $175M in repairs

link