Vancouver student film shorts tell big stories about life
On the brink of another summer where the only sure things seem to be disasters, a group of young film students is betting on hope.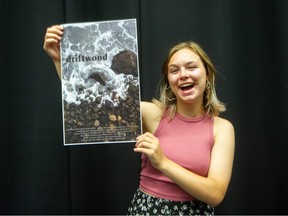 Article content
On the brink of another summer where the only sure things seem to be disasters — wildfires, random acts of racism, violence, anti-LGBTQ rhetoric — a group of young film students is betting on hope.
Article content
Thirteen films produced by students in Grades 8 to 12 at Templeton Secondary screening at the Rio Theatre on Tuesday night show what treasures can be revealed through storytelling — what can be saved, reframed, or hilariously revised.
Article content
Hey Darling explores a young man's journey through gender transition, the redeeming powers of drag, and the fraught relationship of father and son: "Since I have a son now, I was hoping you'd get back into sports," says the Dad, attempting to bond.
In The Summoners, a new girl in school is hassled by bullies until she summons her courage in a revenge plot that is playful, satirical and deeply satisfying. No, she is not going to "smile more".
In Guph, a teenager looks for clues among objects left behind by a friend who has taken their own life. As she comes to terms with a world that has been irrevocably changed by loss, we can't help but feel both her ambivalence and her growth.
Article content
In Sundown, two strangers meet in the last half an hour before the end of the world. As they wait, submerged in the glow of what may be distant, apocalyptic fires, they face their final moments together and choose connection.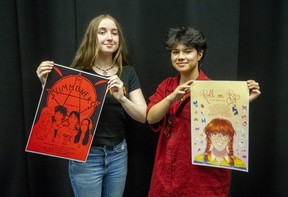 Although the films are not documentaries, like the best creative endeavours, they reflect the experiences of their makers.
Participants in Templeton's After School Student Film program meet twice a week, pitch projects, and work together throughout the year to create finished short films under the guidance of media arts teacher Corin Browne.
"The kids pitch and vote on projects, do eight or nine drafts of each script, do location scouting, casting, shot listing, shooting, editing. They make all the creative decisions. The work they do is massive," said Browne, who has been resident filmmaker at Templeton since 1999.
Article content
Ben Nakazawa Hicks, a 17-year-old queer transgender man whose animation plays a key role in The Summoners, said the program is about much more than just films.
"After School Film created a safe space. It also helped me transition. Being in the program among other trans and queer people gave me a judgement-free space."
Lyra Murphy, 18, drew on her own experience of being bullied to create The Summoners.
"When I started high school, I was new to a friend group, full of mostly boys. They would say the creepiest things about me and my friends, borderline illegal things. It made me feel super, super uncomfortable."
Although she couldn't go back in time to speak up against the bullies, when she joined the film program she found her voice. "I discovered that this was almost a universal experience. It was good for me to look at what happened, and try to heal."
Article content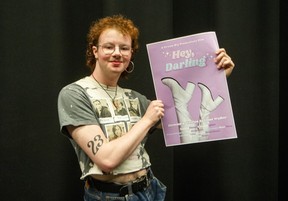 "I don't even recognize the person I was before I came here," said Elliot Walker, 18, who directed Hey Darling. Walker had been to five high schools before he walked through the door of Templeton. As a young trans masculine non-binary person, Walker struggled to find belonging. He found it in the film room.
"I was scared to make (Hey Darling). It's vulnerable and raw. It took on gender identity, family identity, masculine and feminine co-existing," said Walker.
At screenings, one of which was at another high school, Walker said he has had people laugh, or walk out. "It makes a lot of people uncomfortable. But if people aren't upset, then I haven't done my job."
For Browne, the program has always been as much about kids learning to build community as it is about about film. "Films are secondary. It's friendships, it's social and emotional learning, how to deal with conflict, what to do when someone bails on you or lets you down. It all starts with trust, and care for each other. They have to be vulnerable with each other to tell good stories."
Article content
Over the years, Browne has seen students turn their most challenging experiences into comedy, drama and art. "The first year of the pandemic, the films were all about death," said Browne. During lockdowns, the stories revolved around loneliness, isolation and characters without agency.
"This year, a lot of the films are about connection, about endings and personal growth coming out of that isolation," said Browne.
Although a generation of students have gone on to work in the film industry, the reality of work in the industry outside their "creative bubble" is something the kids have to discuss, said Browne.
"This year, half of my camera people are girls, three of my directors are trans. There are not a lot of people represented in that space within the culture of the film industry outside these doors," said Browne.
Whatever challenges her students in the future, they may one day become stories, reframed and transformed into cinema. That, at least, is hope.
Tickets for the event are $15 in advance, or $20 at the door. Advance tickets are available on the Rio's website.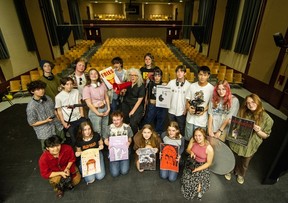 link